⚡️ Hashrate Index Roundup 9/18/21
As we enter fall, some mining market metrics are cooling off--but for how long?
Happy Saturday, y'all!
As we approach autumn, perhaps it's fitting that the mining market and its related metrics are cooling off after a red-hot summer of activity.
Hashprice is in a lull, rig prices are levelling out, and hashrate, while still rising, is letting off the gas pedal a little.  On-chain activity is pretty low, as well, as bitcoin attempts to retake $50,000.
Is the market taking a break before larger moves before the year closes out, or has the Great Hashrate Migration hit a temporary wall as miners search for rack space and scramble to build out capacity for the hundreds of thousands (if not a million plus) of machines waiting on the sidelines?
Hashprice Index
Bitcoin Price (24H): $48,270
Hashprice (TH/s/day): $0.3336
Average Fee Percentage per Block (24H): 1.61%
Network Hashrate (7-day SMA): 137.71 EH/s
Hashprice
Hashprice is well below its yearly high at $0.33/TH, a 19.5% decrease from the $0.41 high it set in April.
Bitcoin is knocking on the door of $50,000 again, however, after revisiting the low $40,000s last week. If it breaks above (and stays above), we will hashprice test this yearly high once again.

Price and Difficulty
There's another positive adjustment coming up in three days, though this one is looking like it will be much less drastic than the ones we saw in late July and throughout August. Different websites are showing different estimates, but it'll likely be in the ballpark of 2-3% unless something drastic happens in the next few days (like a wave of hashrate coming on or offline) .

BRRR (Emission Schedule)
The mempool is still hella empty (it's been clearing a lot recently).
Over the past week, fees were just over 1% of total block rewards. A boost in the fee market would be a boon to miners by raising hashprice, but Bitcoin's price will need to rise from here for that to happen (and even then, it's not guaranteed).

Crypto Mining Stock Index
The index is down 3% on the week at $6,506, while bitcoin is up roughly 6%.
With things cooling down around the mining market, it's no surprise that investors are taking some chips off the table, especially considering public miners themselves are posting their best revenues ever month-after-month.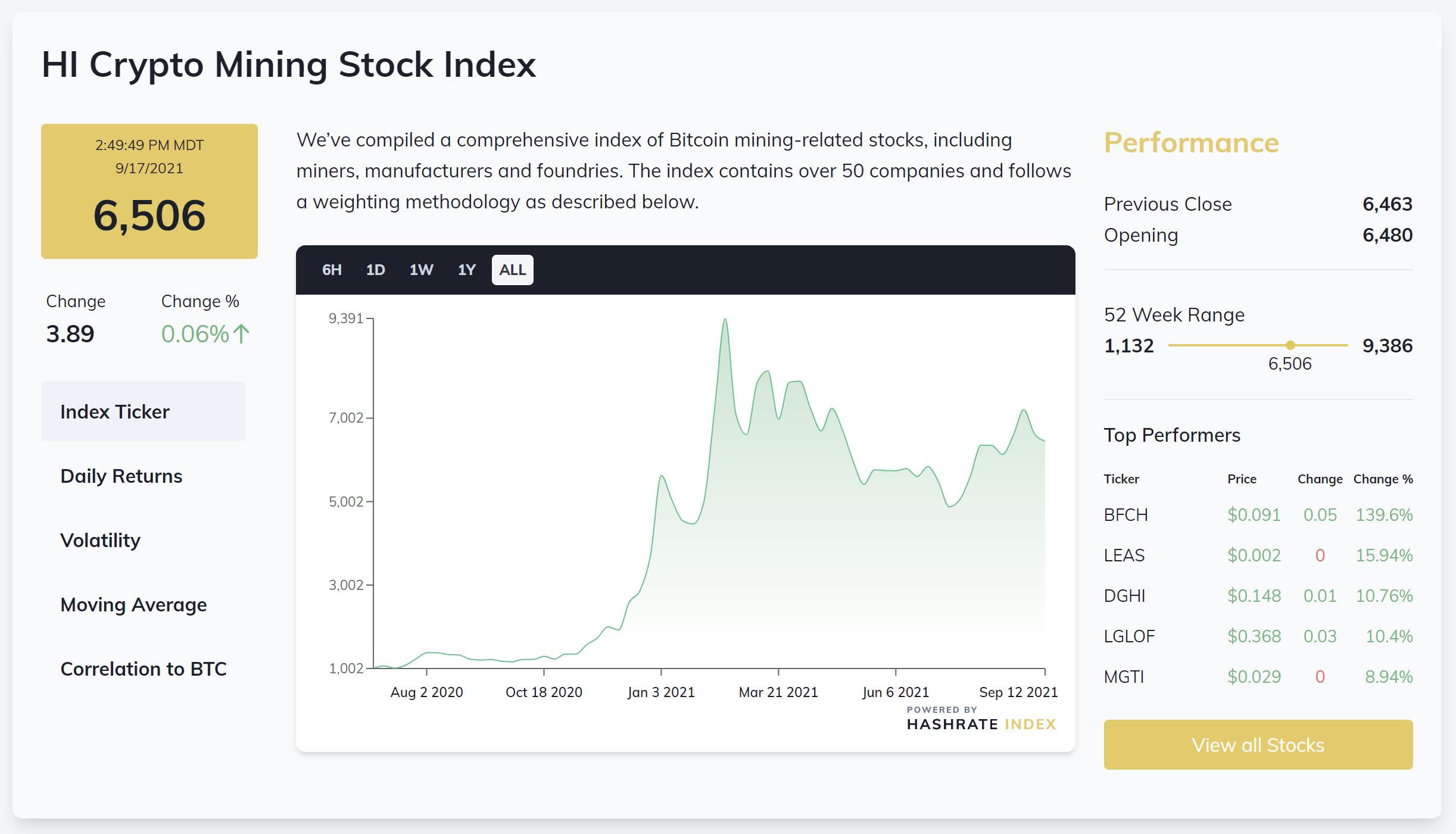 Rig Index
Capex/TH (<35J/TH): $97.40 (+4%)
Estimated Payback Period: 335
Rig Price Index
Rig price are cooling off. Every efficiency tier fell last week with the exception of new generation equipment, which was practically flat from the week before.
Under 38 J/TH: $97.40 (+0.5%)
38-60 J/TH: $67.96 (-0.6%)
60-100 J/TH: $40.39 (-2.2%)
Over 100 J/TH: $21.46 (-2.5%)

Profitability of Popular SHA-256 ASIC
Week-over-week, the per-day reward potential fell for popular rigs:
Antminer S19: $31.40
Whatsminer M30S++: $37.01
Whatsminer M30S: $29.08
Antminer S17+: $24.13
Whatsminer M20S (70TH): $23.13
Antminer S9: $3.80
Happy Hashing, and have a stellar weekend!
-Luxor Team
Hashrate Index Newsletter
Join the newsletter to receive the latest updates in your inbox.
---