⚡️ Hashrate Index Roundup 8/7/21
Happy Saturday, y'all!
The crypto provisions in Congress' infrastructure bill have been the talk of the week (for better or for worse). And while we don't know which of the competing amendments for defining a crypto broker will make it into the bill right now, we do know that, amid all the political jibber-jabber, honey-badger don't care: Bitcoin's price is soaring above $43,000 for the first time since since this past spring.
Most all of our metrics on Hashrate Index are feeling the love, as well. So let's hop to it and see what the data says.
Hashprice Index
Bitcoin Price (24H): $43,629
Hashprice (TH/s/day): $0.3835
Average Fee Percentage per Block (24H): 1.34%
Network Hashrate (7-day SMA): 110.15 EH/s
Hashprice
Bitcoin's hashprice is receiving a good nudge from the recent price action, but it's still a few cents shy from its yearly highs in April.
Why the lagging hashprice even as Bitcoin price is roaring?
Fees as a percentage of block rewards are still very low, averaging below 2% of total block rewards for the past few weeks. Until the fee market ramps up, BTC price increases will only boost hashprice so much (unless it absolutely soars from here), especially with more upwards difficulty adjustments on the horizon.

Price and Difficulty
Bitcoin's last difficulty adjusted sent it upward to 14.5T, a 6% bump and the second positive adjustment in a row.
It's looking like the next adjustment will be upward as well, probably to the same degree as the last, give or take a few fractions of a percentage point.

BRRR (Emission Schedule)
Like we said above, the fee market is still low relative to this price action, though if the price continues to heat up, demand for block space will cause fees to heat up with it
Fees constituted roughy 1-2% of block rewards over the past week.

Crypto Mining Stock Index
Our newest index tracks the stock of over 50 public mining and mining-adjacent companies in a bid to give investors and professionals an easy-to-read pulse on the movements in Bitcoin's ever-changing mining sector.
The index is riding high on Bitcoin's ongoing price pump, up 12% over the week at $6,358.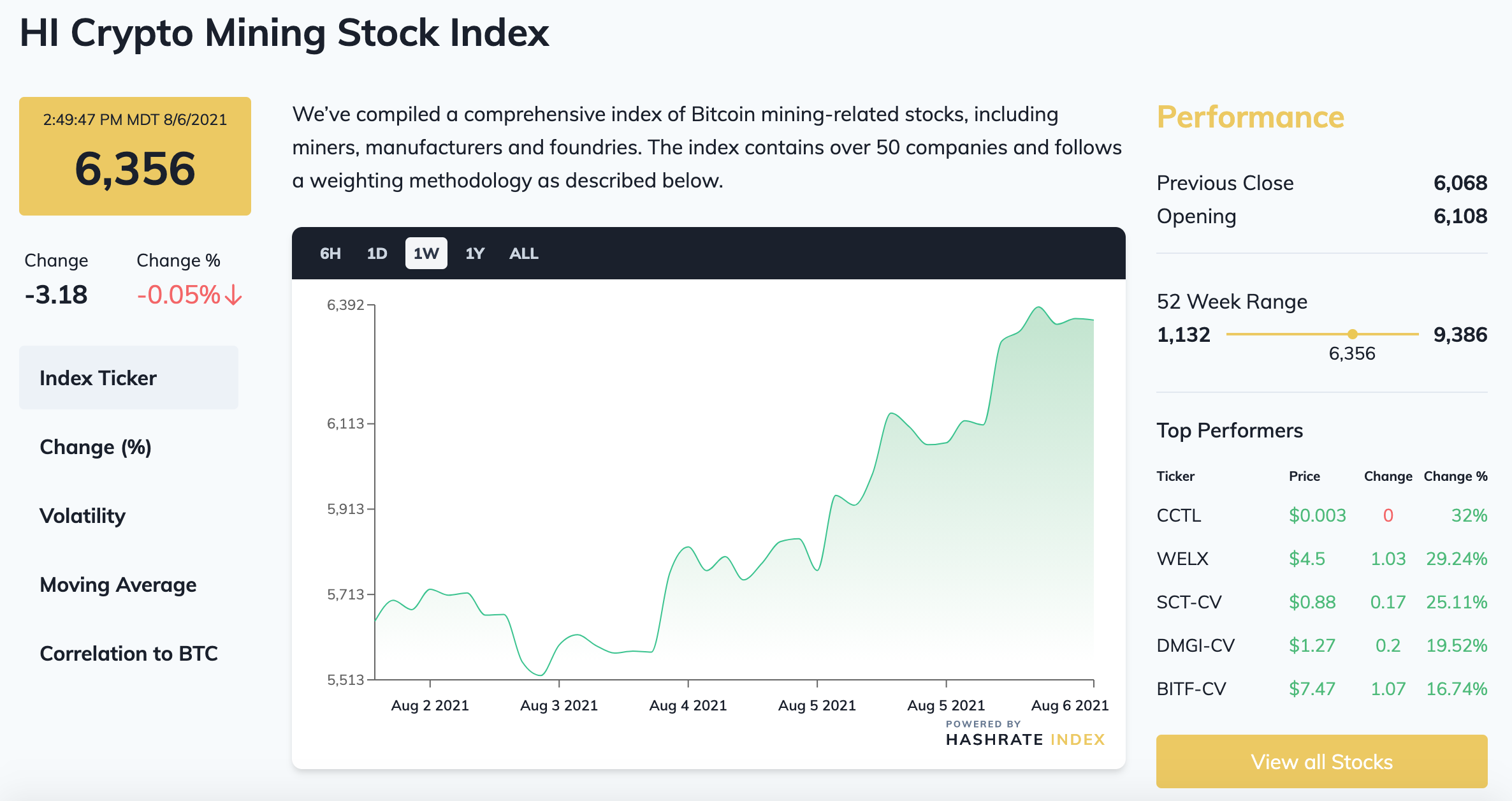 Rig Index
Capex/TH (<35J/TH): $69.90
Estimated Payback Period: 205
Rig Price Index
Rig price for all efficiencies rose last week for the second week in a row, this time more substantially than the last. Could a bottom for the ASIC market be in? If Bitcoin's price continues ripping, the answer is likely yes.
Over the past week, the average prices for the following efficiency buckets changed:
Under 38 J/TH: $69.90 (6.2%)
38-60 J/TH: $47.74 (4.3%)
60-100 J/TH: $27.65 (10%)
Over 100 J/TH: $18.13 (6.2%)

Breakeven Rig Efficiency Threshold
Miner breakeven thresholds all rose just a smidge over the week:
$0.02 kWh: 795.61 W/TH
$0.04 kWh: 397.80W/TH
$0.06 kWh: 265.20 W/TH
$0.08 kWh: 198.90 W/TH
$0.10 kWh : 159.12 W/TH

Profitability of Popular SHA-256 ASIC
The current daily rewards of the more popular bitcoin miners are:
Antminer S19: $38.64
Whatsminer M30S++: $43.28
Whatsminer M30S: $34.01
Antminer S17+: $28.21
Whatsminer M20S (70TH): $27.05
Antminer S9: $4.44
Happy Hashing, and have a stellar weekend!
-Luxor Team
Hashrate Index Newsletter
Join the newsletter to receive the latest updates in your inbox.
---