⚡️ Hashrate Index Roundup 8/28/21
The last difficulty adjustment, the second largest upward one of the year as hashrate continues to come online rapidly, has put a dent into hashprice while rig prices continue to soar in value.
Happy Saturday, y'all!
Bitcoin's price and hashrate are surging in near lockstep, and the increase in mining competition led to Bitcoin's second largest upward increase of the year this past week.
This took hashprice down about $0.05, right at a time when profitability was nearing its yearly high. Still, miners are making out better than they were early in the summer and at the turn of the new year, and stock prices are forecasting high-expectations for a banger end to the year for some of the largest industrial miners.
Hashprice Index
Bitcoin Price (24H): $48,847
Hashprice (TH/s/day): $0.3539
Average Fee Percentage per Block (24H): 1.27%
Network Hashrate (7-day SMA): 131.43 EH/s
Hashprice
Hashprice took a dip this week in response to Wednesday's difficulty adjustment, which dropped profitability about 10% to the current hashprice of $0.35.
We'll get another upward adjustment in the next couple of weeks as machines continue to come online, both as Chinese miners relocate and large North American firms turn on ASICs that they ordered earlier this year.

Price and Difficulty
The next difficulty adjustment is projected to hit on or around September 8 and will mark the forth straight upward adjustment since hashrate took a turn toward the upside in July.
Wednesday's adjustment, a hefty 13% upward, as the second largest this year and retargeted mining difficulty to 17.62 T, the highest it's been since difficulty dropped off a cliff in July with the record-breaking 27% downward adjustment.

Bitcoin is always lending surprises, and one of the more surprising trends of the second-half of 2021 has been the rapidity with which hashrate has recovered after China's ban. Active miners are still having a lucrative summer, but Bitcoin's price will need to run from here if we're going to summit the peaks in profitability we saw in April when hashprice was $0.41/TH.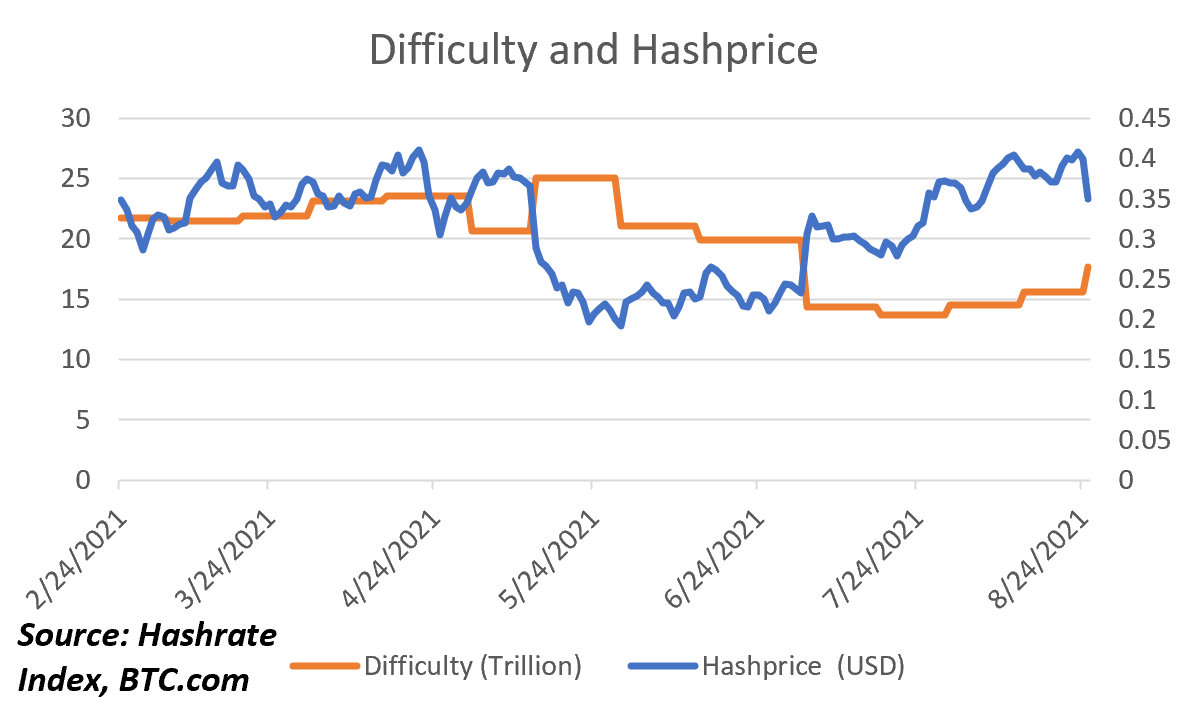 BRRR (Emission Schedule)
We're still in a profitability trough when it comes to fees as a percentage of block rewards.
Over the past week, fees constituted just over 1% of mining rewards. If on-chain transaction volume picks up to levels we saw during Bitcoin's all-time-high run-up, this would be a major boon to miner profitability.

Crypto Mining Stock Index
The index had rose this week by 2.5% to $6,132, beating out bitcoin, which waned 1% as it cools off from $50,000.
Coin Citadel (+24%) and Mechanical Technologies (+18.7%) had the best week out of all the stocks in the index, while industrial mining powerhouses like Hut 8 (+13.5%) and Marathon Digital Holdings (+11.3%) help to lead the index's positive price action this week.
This is Marathon's second blockbuster week in a row, and its gains alongside Hut 8's own (and more modest weekly gains from the likes of Riot and Bitfarms) could be investors pricing in expectations that these firms will have even better Q3s than their record-breaking Q2s as new equipment comes online.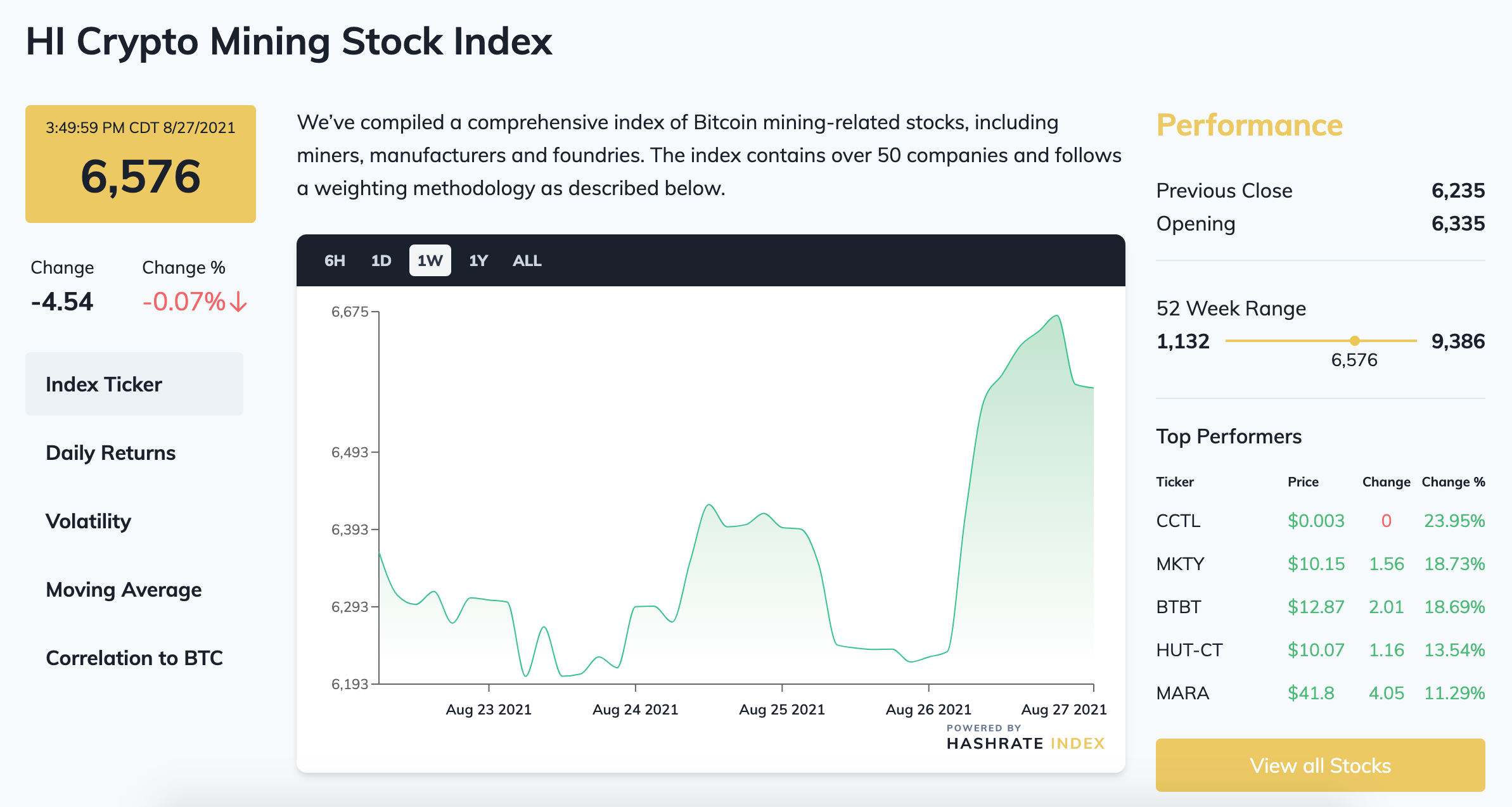 Rig Index
Capex/TH (<35J/TH): $88.08
Estimated Payback Period: 285
Rig Price Index
Rig price are still surging, rising last week for the fifth week in a row.
Over the past week, the average prices for the following efficiency buckets changed:
Under 38 J/TH: $88.08 (6.3%)
38-60 J/TH: $63.51 (8.9%)
60-100 J/TH: $36.70 (7.8%)
Over 100 J/TH: $21.69 (5.2%)
Profitability of Popular SHA-256 ASIC
Week-over-week, the per-day reward potential of popular ASICs dropped precipitously following Wednesday's difficulty adjustment, falling on average 12%:
Antminer S19: $38.07
Whatsminer M30S++: $39.42
Whatsminer M30S: $30.97
Antminer S17+: $25.69
Whatsminer M20S (70TH): $24.63
Antminer S9: $4.05
Happy Hashing, and have a stellar weekend!
-Luxor Team
Hashrate Index Newsletter
Join the newsletter to receive the latest updates in your inbox.
---