⚡️ Hashrate Index Roundup 8/21/21
Hashprice is up, rig prices are up, and North American miners have never had it better.
Happy Saturday, y'all!
Bitcoin is still on a tear and the rising price is reflecting itself in our metrics.
For example, mining profitability is nearly at a yearly high and rig prices are inching towards the levels we saw this Spring when bitcoin hit its all-time high.
With all of these metrics popping, it's a damn good time to be mining, as evidenced by the fact that publicly traded North American miners are coming off their best Q2 ever and are on track to have an even better Q3.
With that, let's crunch some numbers.
Hashprice Index
Bitcoin Price (24H): $49,113
Hashprice (TH/s/day): $0.4010
Average Fee Percentage per Block (24H): 1.20%
Network Hashrate (7-day SMA): 125.72 EH/s
Hashprice
With BTC's price still juicing, Bitcoin's hashprice is closing in yet again on its yearly high. At the time of writing, mining profitability is currently $0.4010/TH
We've got another upwards adjustment on the horizon, currently projected to be a sizable ~7% bump. This will take hashprice down a few notches, but if the price keeps ripping, profitability will continue to chase these adjustments to the upside.

Price and Difficulty
The next difficulty adjustment is projected to hit August 25, and it'll be the third upward adjustment in a row.
The last two were 7.31% and 6%, respectively, and this impending one will likely be to a similar degree if not higher (some websites project as much as 12%).
Hashrate is coming online quickly, perhaps more quickly than some of use expected after China's crackdown, so we're keen to see whether or not the price will keep up with these successions of upward adjustments—especially considering plenty more are coming down the road.

BRRR (Emission Schedule)
Fees as a percentage of block rewards are still considerably lower than they were when we saw Bitcoin climbing to all-time highs earlier this year.
Over the past week, fees constituted 1-2% of mining rewards.

Crypto Mining Stock Index
The index had another down week this week, losing 3% with a current price tag of $6,132.
Equities across the board had something of a sluggish week and the index seems to be following the herd here rather than bitcoin itself (BTC, by comparison, is up nearly 5%).
Still, there were certain standouts, like Argo (+15%), which announced it is seeking out a listing on the Nasdaq this week, and Marathon (+11%), which made headlines when Blackrock revealed it had taken a 6.7% stake in Marathon to include in its various ETFs. Blackrock also holds 6.61% of Riot's stock, and though the weekly change isn't as dramatic, the stock is up 7% since the announcement.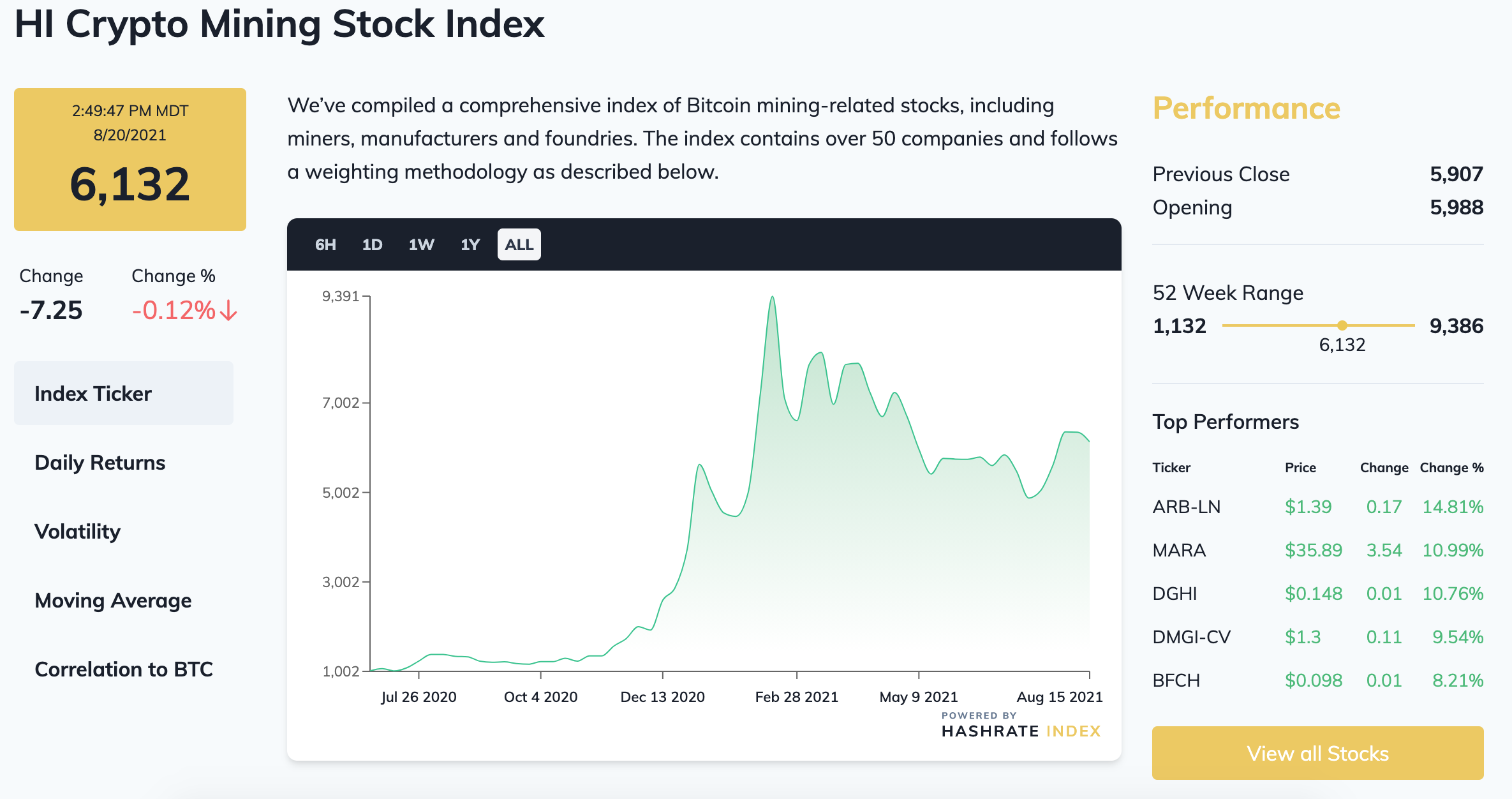 Rig Index
Capex/TH (<35J/TH): $83.36
Estimated Payback Period: 223
Rig Price Index
Rig price are on a tear, rising last week for the third week in a row and appreciating on average 7.45%—the largest percentage gain we've seen since prices began recovering after the ASIC market bottomed in July.
Over the past week, the average prices for the following efficiency buckets changed:
Under 38 J/TH: $83.36 (9.5%)
38-60 J/TH: $57.46 (7.8%)
60-100 J/TH: $34.26 (15.3%)
Over 100 J/TH: $20.94 (7.9%)

Profitability of Popular SHA-256 ASIC
Week-over-week, the profitability of popular ASICs rose on average 5% as bitcoin's price made its march toward $50,000:
Antminer S19: $38.07
Whatsminer M30S++: $44.88
Whatsminer M30S: $35.26
Antminer S17+: $29.25
Whatsminer M20S (70TH): $28.05
Antminer S9: $4.61
Happy Hashing, and have a stellar weekend!
-Luxor Team
Hashrate Index Newsletter
Join the newsletter to receive the latest updates in your inbox.
---