⚡️ Hashrate Index Roundup 8/14/21
Bitcoin is pumping, and so are ASIC prices, while profitability is cooling off after two hefty upward difficulty adjustments in a row.
Happy Saturday, y'all!
Compared to last week's Senate fiasco, we had something of a quiet week on the news front, but the Bitcoin market made up for the inactivity with some popping price action.
With orange coin back in bull mode, we're seeing an uptick in rig prices, though profitability has remained somewhat stagnant as a result of the recent difficulty adjustment, the largest one to the upside since May.
Now, let's hash out the data.
Hashprice Index
Bitcoin Price (24H): $46,369
Hashprice (TH/s/day): $0.3811
Average Fee Percentage per Block (24H): 1.65%
Network Hashrate (7-day SMA): 113.99 EH/s
Hashprice
Bitcoin's hashprice was inching towards a yearly high this week before Thursday's difficulty adjustment kicked in.
Hashprice was just above $0.40 before the upward adjustment, but this only took it down a peg or two with profitability now at $0.3811
As we said last week, we'll need higher prices still and the fee market to amp up before we can revisit (and transcend) that yearly hashprice high.

Price and Difficulty
August 12's upward adjustment put us back over 15 T for the first time since July 3's historic 27% drop. This adjustment, the second positive one in a row after a succession of drops, has the new difficulty set to 15.56 T, a 7.3% increase from the previous level.
As hashrate continues to come online at a rapid clip, expect the next adjustment to be upward, as well, though to a much smaller degree than the last two.

BRRR (Emission Schedule)
The fee market is starting to heat up again as Bitcoin's rally continues, but we're still many percentage points off from the highs set back in the Spring of this year.
Over the past week, fees constituted ~2% of mining rewards.

Crypto Mining Stock Index
Our newest index tracks the stock of over 50 public mining and mining-adjacent companies in a bid to give investors and professionals an easy-to-read pulse on the movements in Bitcoin's ever-changing mining sector.
The index is cooling off from its meteoric run up over the past month (it's up 35% since July 18, when Bitcoin reversed its bear trend). Over the past week, the index is down 6% over the week at $6,347.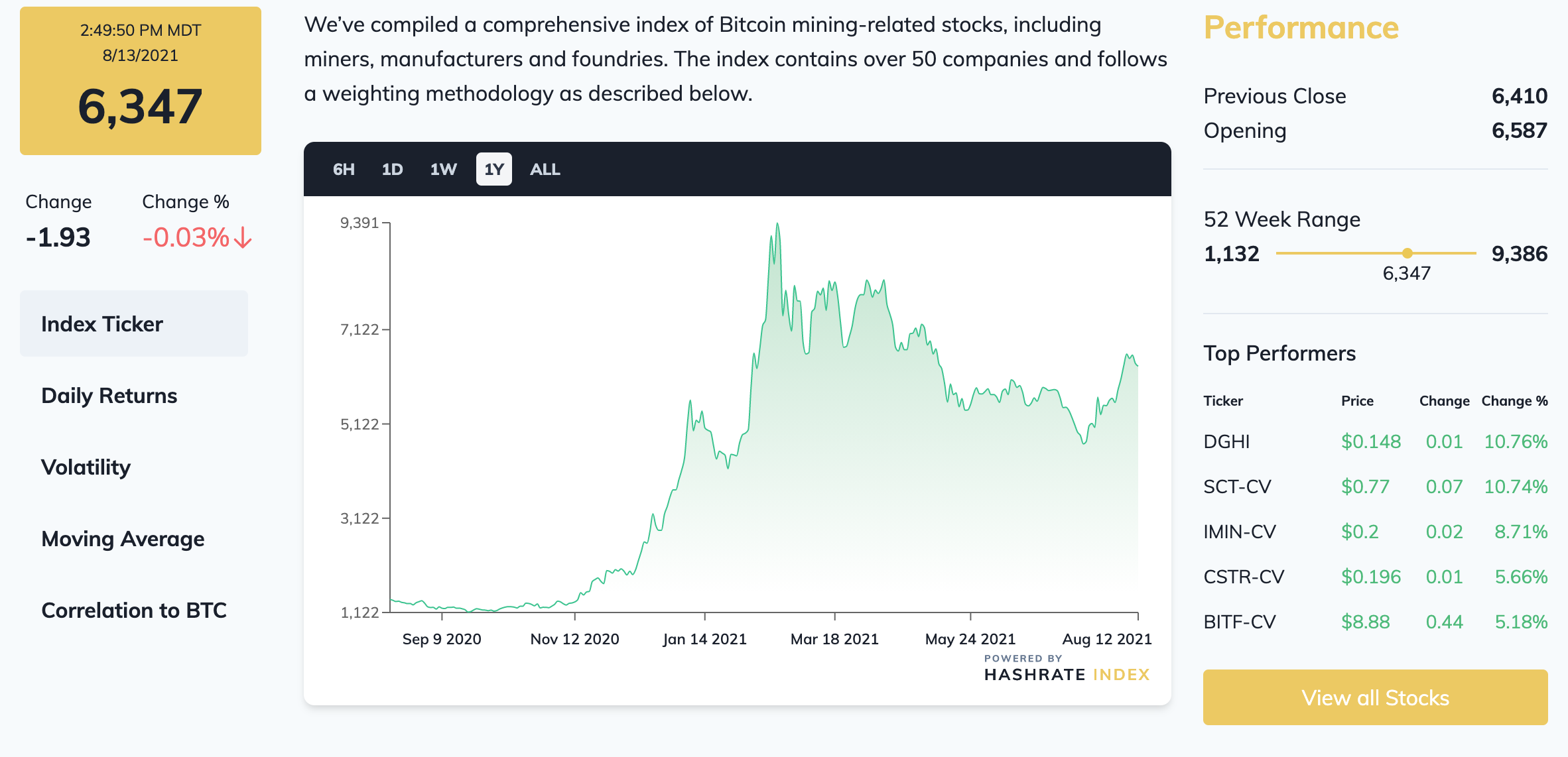 Rig Index
Capex/TH (<35J/TH): $76.02
Estimated Payback Period: 225
Rig Price Index
Rig price are on a tear, rising last week for the third week in a row and appreciating on average 7.45%—the largest percentage gain we've seen since prices began recovering after the ASIC market bottomed in July.
Over the past week, the average prices for the following efficiency buckets changed:
Under 38 J/TH: $76.02 (8.4%)
38-60 J/TH: $52.33 (8.2%)
60-100 J/TH: $29.13 (7.6%)
Over 100 J/TH: $19.22 (5.6%)

Profitability of Popular SHA-256 ASIC
Week-over-week, the profitability of popular ASICs fell a smidge (give or take a buck on most models) in response to the latest difficulty adjustment:
Antminer S19: $36.22
Whatsminer M30S++: $42.70
Whatsminer M30S: $33.55
Antminer S17+: $27.83
Whatsminer M20S (70TH): $26.69
Antminer S9: $4.38
Happy Hashing, and have a stellar weekend!
-Luxor Team
Hashrate Index Newsletter
Join the newsletter to receive the latest updates in your inbox.
---