⚡️ Hashrate Index Roundup 7/31/21
Bitcoin's price is showing signs of life and pumping up mining metrics with it. Also, new this week, we're proud to introduce a fresh dataset to the roundup: the Hashrate Index Crypto Stock Index!
Happy Saturday, gang!
Bitcoin's price has jumped above $40,000 and, per usual, the pump is bringing mining metrics up with it.
Despite the pump, the mempool isn't as full as we've seen it during other times of hot market activity, and so miners aren't raking in as much in transaction fees (we'll check in next week to see if that's still the case, though, if this positive price action continues).
This edition, we're happy to introduce a new index to our roundup lineup: the Crypto Mining Stock Index. We launched the index this week and are excited to make it part of your weekly mining digest.
And with that, let's crunch some data.
Hashprice Index
Bitcoin Price (24H): $41,626
Hashprice (TH/s/day): $0.3654
Average Fee Percentage per Block (24H): 1.19%
Network Hashrate (7-day SMA): 108.77 EH
Hashprice
Bitcoin's Hashprice continues its steady climb out of its post-China crackdown profitability trough, and with this price pump, it was inching towards its highs from earlier this year until yesterday's upward difficulty adjustment took it down a few cents.
In the hours before the adjustment, Hashprice was roughly $0.39; it's now just above $0.36.

Price and Difficulty
Bitcoin's difficulty adjusted upward on Friday to 14.5T, a 6% bump and the second positive adjustment in a row following the late spring and early summer's succession of downward adjustments.
It's too early to say by what degree, but we anticipate that the next adjustment (as well as many more in the months to come) will be upward as miners move on the double to plug in machines to capture the upside of current profitability levels.

BRRR (Emission Schedule)
Despite bitcoin's roaring price, transaction volume is still down (get in those 1 sat/byte transactions while you can, gang), so miners are making a pittance in transaction fees.
Fees constituted roughy 1-2% of block rewards over the week.

Crypto Mining Stock Index
Our newest index tracks the stock of over 50 public mining and mining-adjacent companies in a bid to give investors and professionals an easy-to-read pulse on the movements in Bitcoin's ever-changing mining sector.
Bitcoin's price rise at the end of the week gave a boost to the index after it fell precipitously at the beginning of the week.
The index's current level is 5,620 after closing yesterday at 5,510.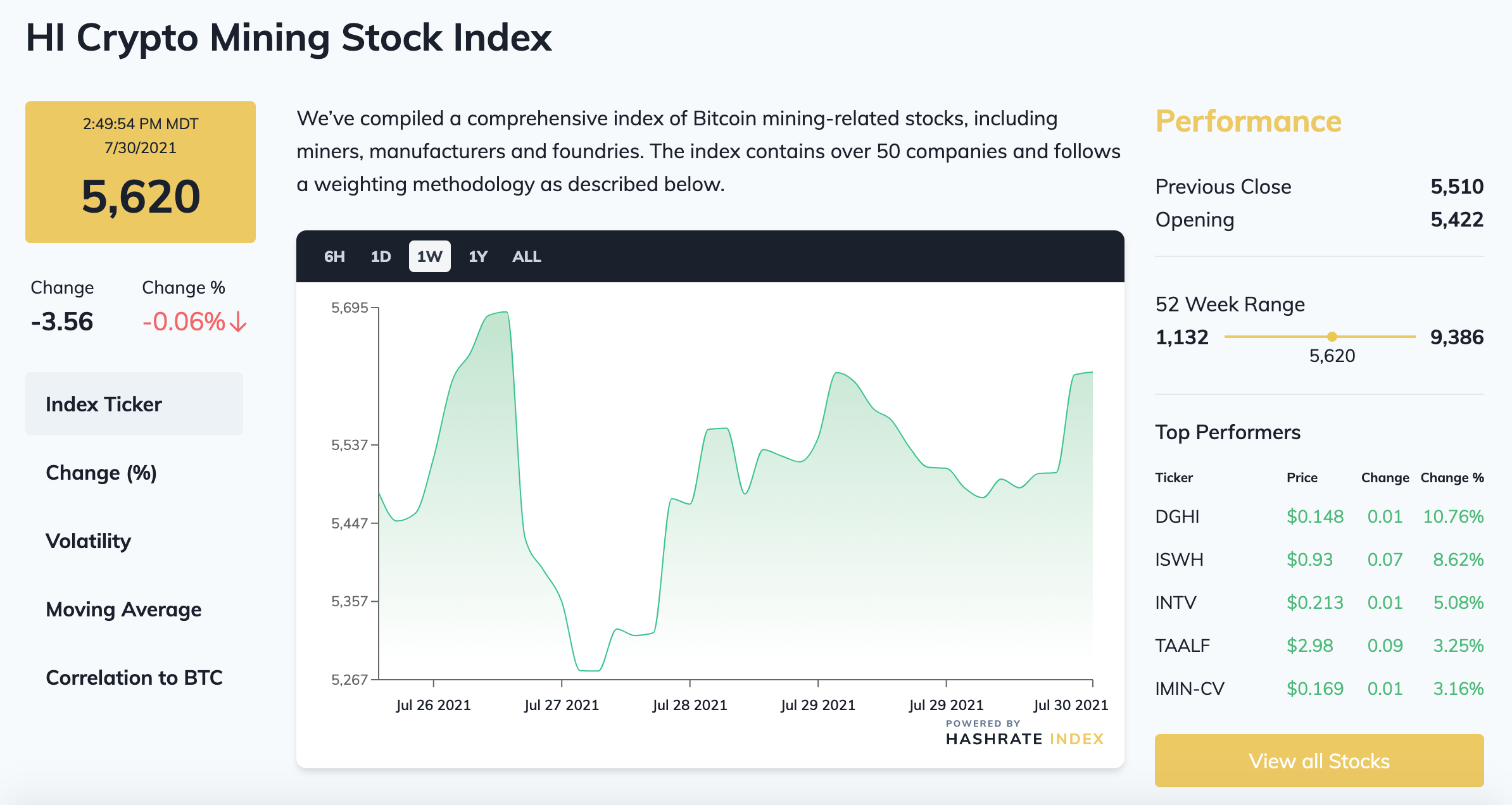 Rig Index
Capex/TH (<35J/TH): $65.24
Estimated Payback Period: 202
Rig Price Index
The price per TH for rigs rose for all efficiency tiers last week for the first time since May, seeming to signal a bottom for the secondary ASIC market after a spring and summer of fire sales.
Over the past week, the average prices for the following efficiency buckets changed:
Under 38 J/TH: $65.24(5%)
38-60 J/TH: $45.60 (0.6%)
60-100 J/TH: $26 (8%)
Over 100 J/TH: $17.59 (3%)
If bitcoin is back in bull mode, we may very well have seen the bottom of the great China ASIC sell-off.

Breakeven Rig Efficiency Threshold
Miner breakeven thresholds all rose by roughly 15% over the week and are currently:
$0.02 kWh: 780.24 W/TH

$0.04 kWh: 390.12W/TH

$0.06 kWh: 260.08 W/TH

$0.08 kWh: 195.06 W/TH
Profitability of Popular SHA-256 ASIC
The current daily rewards of the more popular bitcoin miners are:
Antminer S19: $34.71
Whatsminer M30S++: $40.92
Whatsminer M30S: $32.15
Antminer S17+: $26.67
Whatsminer M20S (70TH): $25.57
Antminer S9: $4.20
.Happy Hashing, and have a great weekend!
-Luxor Team
Hashrate Index Newsletter
Join the newsletter to receive the latest updates in your inbox.
---