⚡️ Hashrate Index Roundup 10/3/2021
Fall is here, and while the weather is cooling down, Bitcoin and its mining market are turning up the heat.
Happy October, y'all!
Q4 is here and there's something in the air, but it's more than pumpkin spice and the earthy aroma of falling foliage…
Bitcoin's price is gunning for $50k once again, and seemingly out of nowhere, Bitcoin's hashrate is going parabolic (looking at the one-day average, we're not far off from the all-time highs we saw back in Spring). And all of this is happening with the backdrop of China throwing its most serious ban hammer against Bitcoin mining and the crypto industry ever.
So grab your pumpkin spice latte and we'll walk you through what we're seeing in the data from all of this activity.
Hashprice Index
Bitcoin Price (24H): $47962.57
Hashprice (TH/s/day): $0.3204
Average Fee Percentage per Block (24H): 0.92%
Network Hashrate (7-day SMA): 147.32 EH/s
Hashprice
Hashprice is back above $0.32/EH thanks to the recent positive price action. Sentiment is turning pretty bullish, it seems, with everyone from Twitter plebs to seasoned traders licking their chops for $100k per coin. At the very least, we're happy to see hashprice above $0.30 again, and we've got our fingers crossed for yearly highs if this price action continues.

Price and Difficulty
It's looking like we've got another positive adjustment in the works for tomorrow (the 6th in a row at roughly 3%), and given the rate that hashrate is coming online, we're likely in for more positive adjustments still on the horizon.

Speaking of hashrate, we know that daily average isn't the most accurate measure of active compute power (that's why we use a 7-day moving average on our site). But even so, it's hard to ignore the charts that have shown an 18% increase in hashrate over the weekend. Suffice to say, we'll end the year above 150 EH easily unless something catastrophic happens, something that very few folks saw coming after China's hashrate exodus…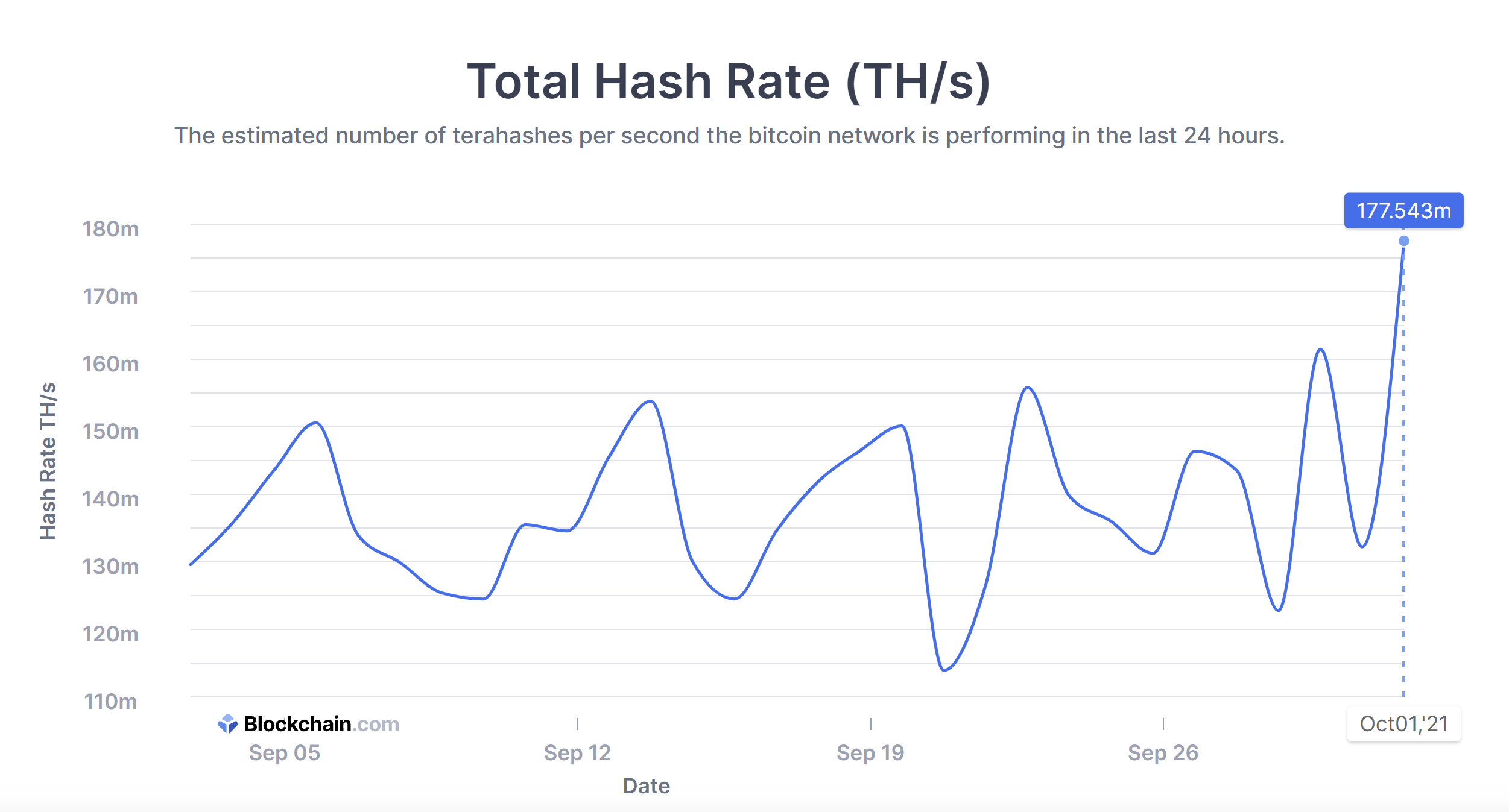 BRRR (Emission Schedule)
What's scarier than spooky season? Bitcoin's fee market…
Ok, terrible joke aside, fees are still much lower than miners would like. Last week, fees made up 1.4% of block rewards on average
This is just a tidbit lower than the average fee percentage for the entire month of September, which was 1.5%. August was even worse, at an average of 1.36%, so at least things are improving even if only very slightly. But we've still got a ways to go before we get anywhere close to the go-go days of fee market revenue in the Spring and Summer of this year (where every month's fee revenue was nearly double the one that succeeded it):
July: 3.2%
June: 5.6%
May: 9.7%
April: 18%

Crypto Mining Stock Index
The index was down again this week at $5,787, off some 5% from last week's roundup; meanwhile, bitcoin is up nearly 11% over the week.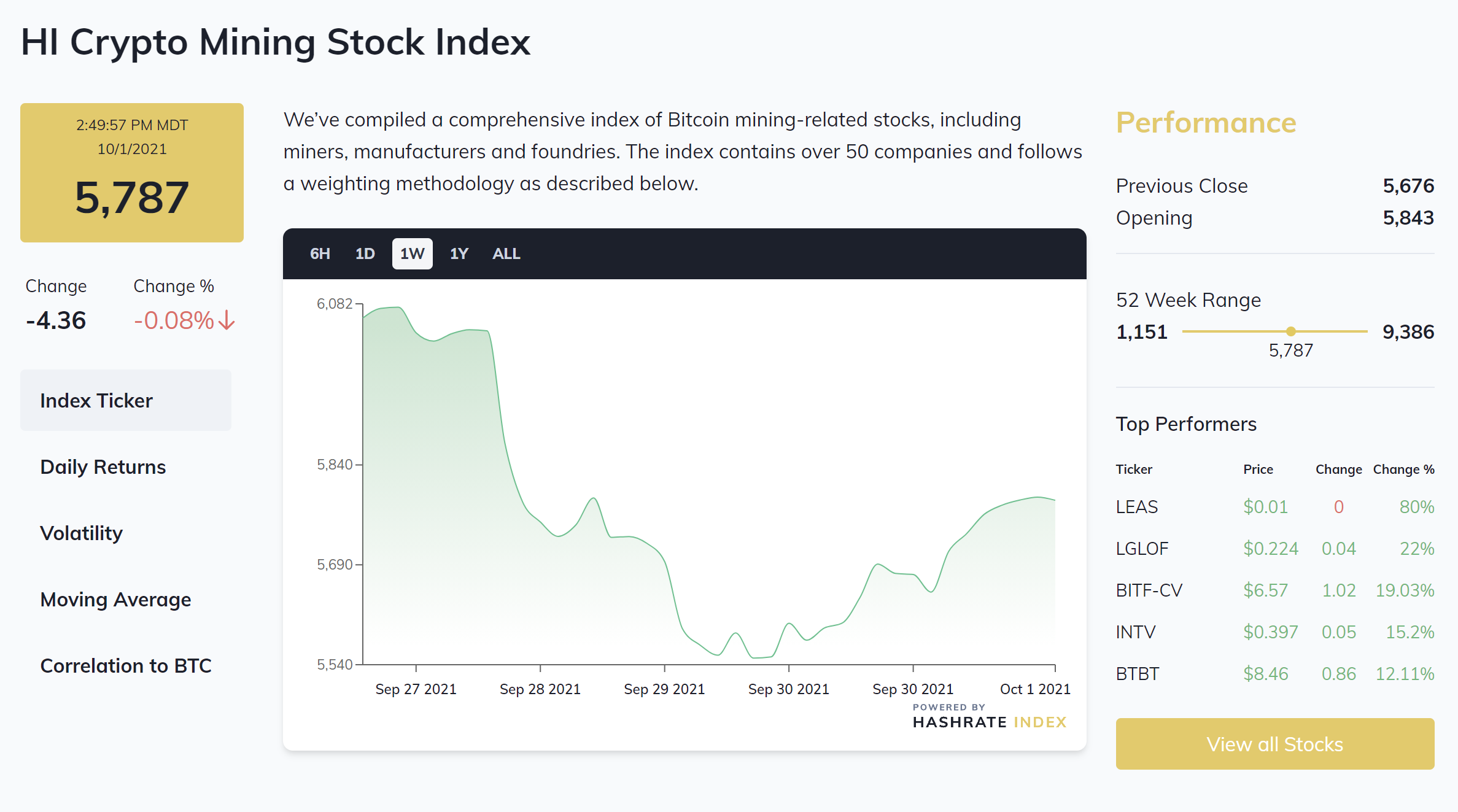 Rig Index
Capex/TH (<35J/TH): $97.05 (-1.8%)
Estimated Payback Period: 349 days
Rig Price Index
Rig price fell last week across the board for the first time since July.
Newer generation machines are still separating from the pack, as older generation rigs continue to be left behind by miners who are prioritizing new equipment to cash in on what's left of the golden opportunity presented by China's mining ban.
38 J/TH: $97.05 (-2%)
38-60 J/TH: $70.09 (-1.1%)
60-100 J/TH: $37.71 (-5.7%)
100 J/TH: $18.49(-4.1%)

Rig prices may have had a down week last week, but if bitcoin continue to rip from here, we could revisit all-time high pricing soon.
Profitability of Popular SHA-256 ASIC
With hashprice getting a boost from bitcoin's price, the per-day reward potential for popular rigs rose over the week:
Antminer S19: $30.43
Whatsminer M30S++: $35.87
Whatsminer M30S: $28.18
Antminer S17+: $23.38
Whatsminer M20S (70TH): $22.42
Antminer S9: $3.68
News Roundup
We're going to start doing things a little bit differently on the news front. Instead of breaking down a handful of stories in our mid-week newsletter, we're going to give a sentence or two on the prior week's biggest news at the end of the roundup each weekend.
Here's what we pulled from last week's newsfeed.
Ethereum Pools Are Shutting Down: Following China's latest anti-crypto mandates, the world's largest Ethereum mining pool, Sparkpool, and another of the largest Ethereum pools, BeePool, are closing their doors for good.
Bitmain No Longer Selling Rigs to Chinese Customers; May Move Manufacturing Off-Shore: The world's biggest ASIC manufacturer, Bitmain, will no longer sell rigs to Chinese customers, and rumor has it that the firm will be moving most of its manufacturing capacity offshore to its Malaysian and Indonesian factories.
El Salvador is Mining Bitcoin With Lava Energy: The government for the Central American nation of El Salvador is mining Bitcoin with geothermal energy from one of its active volcanoes.
U.S. Senators Propose Bill to Track Foreign Crypto Use: U.S. Senators Maggie Hassan and Joni Ernst have drafted a bill that would task the Treasury Department, the Attorney General, the U.S. Trade Representative, the Office of the Director of National Intelligence and the Federal Reserve to monitor Bitcoin mining practices and crypto use in other countries.
Iran Lifts Mining Moratorium: Licensed miners can operate in Iran once again after the government lifted a temporary ban on the industry it mandated in May following grid failures.
Inner Mongolian Government Taskforces Seizes 10,000 Rig Farm: A government task force set up by Inner Mongolian officials has seized some 10,100 mining rigs that were operating in a government tech park in defiance of the bans set forth by the Inner Mongolian government this summer and the CCP in September.
Have a good weekend, and Happy Hashing!
-Luxor Tech Team
Hashrate Index Newsletter
Join the newsletter to receive the latest updates in your inbox.
---