⚡️ Hashrate Index Roundup 10/10/2021
Uptober is in full swing, with hashprice and rig prices up over the week thanks to bitcoin's recent price action.
Happy Sunday, y'all!
Bitcoin is back above $50k and miners are feeling the love.
Hashprice is up, rig prices are up, transaction fees are (very slightly) up. It's definitely feeling a lot like Uptober—but how much farther up will we be going from here?
We don't have the answer to that, but we can show you how far we've come over the past quarter and since China's mining ban. If you're interested in seeing these changes, be sure to check our blog tomorrow for our Q3 report. It's packed with metrics and juicy data points you won't want to miss!
But until then, let's take a look at last week's moves in Bitcoin's mining market.
Hashprice Index
Bitcoin Price (24H): $54842.26 (+14%)
Hashprice (TH/s/day): $0.3513 (+9.6%)
Average Fee Percentage per Block (24H): 0.92%
Network Hashrate (7-day SMA): 142 EH/s (-3.4%)
Hashprice
Hashprice is pumping alongside Bitcoin's price, up nearly 10% over the week at $0.35.
Will we see a new yearly high for hashprice soon? If bitcoin keeps up its bullrush we definitely will. Some folks are forecasting a $1.00/TH hashprice before the year is up. That would require Bitcoin's price to 3x from here, or for it to increase roughly 2.5x and for the mempool to see a substantial, double-digit bump in fees (at least).
This is certainly possible, especially if Bitcoin follows prior bull market trajectories for Q4.
Price and Difficulty
The next difficulty adjustment is roughly 8 days away, and it's too early to tell whether it will be negative or positive.
That said, we anticipate that the vast majority of the adjustments for the rest of the year will be to the upside, as mega-farms continue to boot up new machines and miners displaced from China's ban continue to relocate.
BRRR (Emission Schedule)
Bitcoin's positive price action has nudged the fee market along, but not as much as miners would hope. The average for fees as a percentage of block rewards last week was roughly 2%. Not much, but still better than the 1% (or less) that we've been accustomed to recently.

Crypto Mining Stock Index
The index was on the up this week, rising 5% to $6,085.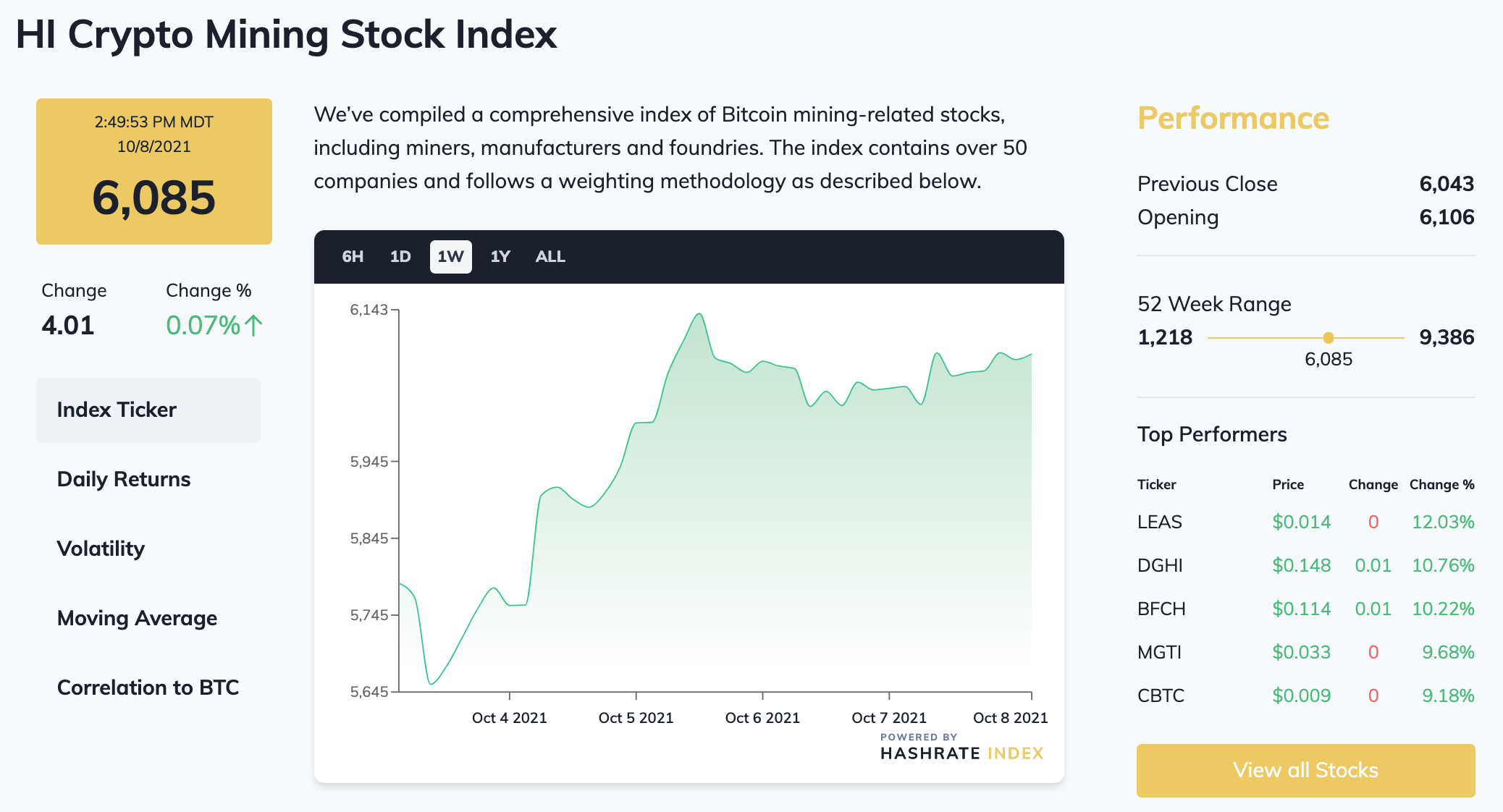 Rig Index
Capex/TH (<35J/TH): $98.61 (+1.6%)
Estimated Payback Period: 319 days
Rig Price Index
Rig price are rising again after taking a breather the week prior.
The only exceptions here were the newest rigs, which fell by a very negligible 0.2%.
Under 38 J/TH: $98.61 (-0.2%)
38-60 J/TH: $70.62 (2.8%)
60-100 J/TH: $38.88 (3.1%)
Over 100 J/TH: $19.40 (4.9%)

Profitability of Popular SHA-256 ASIC
With hashprice getting a boost from bitcoin's price, the per-day reward potential for popular rigs rose over the week:
Antminer S19: $33.43
Whatsminer M30S++: $39.41
Whatsminer M30S: $30.97
Antminer S17+: $25.69
Whatsminer M20S (70TH): $24.63
Antminer S9: $4.05
News Roundup
North American Bitcoin Miners Had a Record-Breaking Q3
One man's misfortune is another man's payday. Case in point: China's mining ban has been a boon for public North American miners, and these miners are coming off their best Q3 ever after a similarly record-breaking Q2. With competition reduced from China's ban (and with a hashrate boosts from new rigs coming online), they collectively mined 5,734 BTC in Q3, a 79% increase from Q2 and 155% increase from Q1.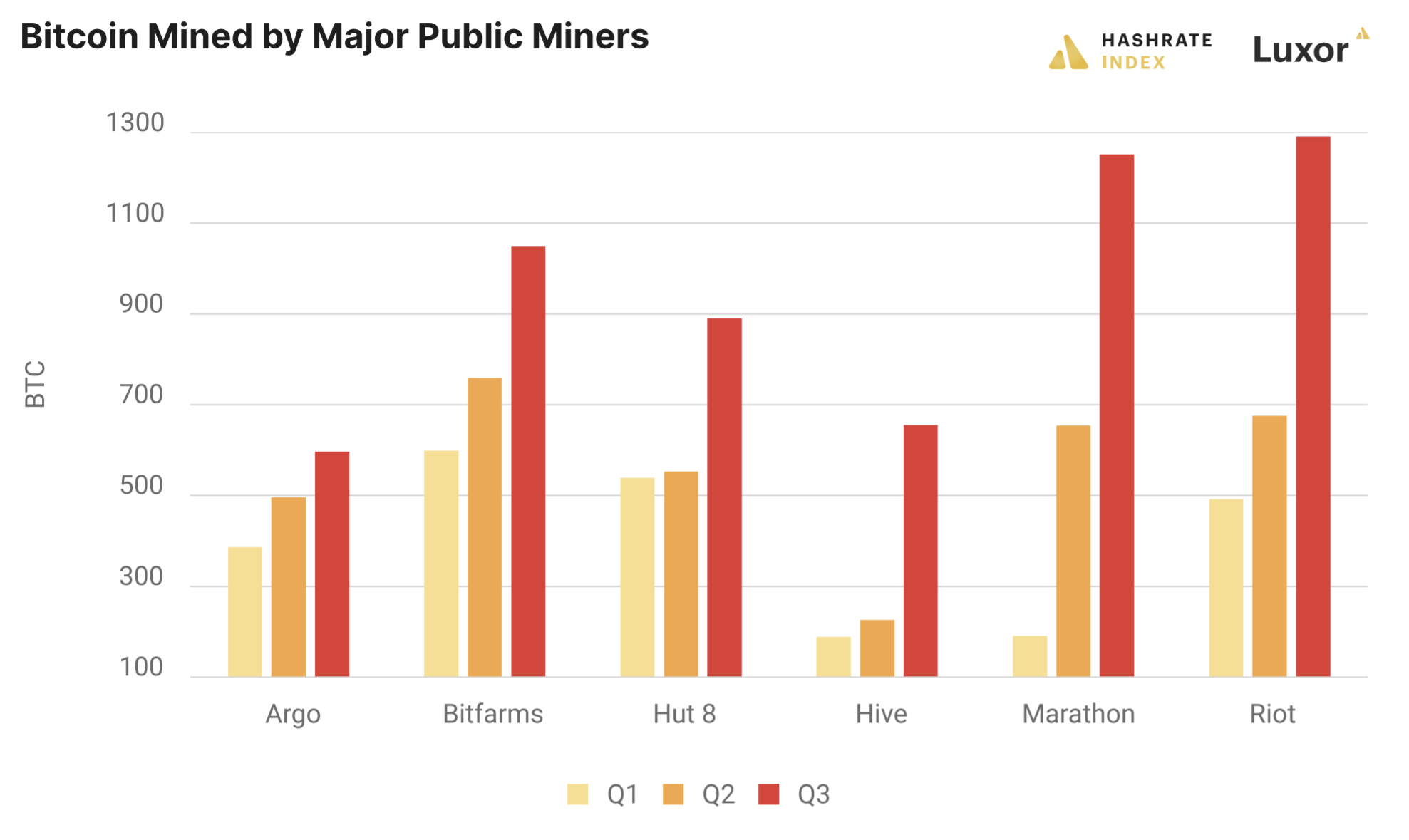 Braiins OS for S19, S19 Pro, T19 Goes Into Beta
Braiins is bringing its popular firmware to Bitmain's newest machines. Braiins OS is now in a closed beta for the S19, S19 Pro, and T19. The firmware will come with all the features that have made Braiins OS a favorite for miners running S9s, as well as a slew of new features.
Sino-Global, Highsharp Are Entering the ASIC Business
The ASIC manufacturing supply chain has a new competitor.
Sin-Global, historically a shipping company which began wading into Bitcoin mining this February, has formed a joint-venture with blockchain tech firm Highsharp to manufacture ASICs.  The news comes just over a month after the Bitcoin technology firm Blockstream announced it would begin manufacturing ASICs, as well.
Bitmain Confirms It Will Halt Domestic Sales
Bitmain announced this weekend that it will cease sales of its mining rigs in mainland China, confirming rumors that circulated in the weeks following China's latest crackdown on crypto and mining.
-Luxor Tech Team
Hashrate Index Newsletter
Join the newsletter to receive the latest updates in your inbox.
---