⚡️ Hashrate Index Roundup 10/17/2021
Uptober just keeps on giving, y'all.
Happy Sunday, mining fam!
*Breathes deeply* WE ARE BACK IN ATH RANGE Y'ALL LET'S GET IT
Riding on a wave of news that a Bitcoin futures ETF has finally received SEC approval, Bitcoin has pumped to levels last seen this Spring when it hit a fresh all time high, and it's currently trading just above $60,000.
Hashprice is riding this wave, of course, and we're just cents away from a yearly high for mining profitability.
Uptober just keeps on giving, and if things keep going so well, it could mean an even better Moonvember…
Hashprice Index
Bitcoin Price (24H): $60,836 (+11%)
Hashprice (TH/s/day): $0.3894 (+10.8%)
Average Fee Percentage per Block (24H): 1.27%
Network Hashrate (7-day SMA): 143.53 EH/s (+1%)
Hashprice
Hashprice has had two stellar weeks in a row. It rose 9% in the week leading up to last Sunday's newsletter, and this week, it rose even more by 10% to nearly $0.39/TH.
With the way Bitcoin is pumping (*knock on wood*), it's looking like we'll easily transcend the yearly high of $0.41/TH.  Now we're just wondering how far we'll go from here, and if we'll be so lucky as to hit a $1.00/TH hashprice before the year is up (a miner can dream, right?).

Price and Difficulty
The next difficulty adjustment is roughly a day away, with a  slight bias toward the upside.
This will mark 7 upward adjustments in a row, the first time Bitcoin has seen so many successive positive difficulty adjustments since (funnily enough) late summer and early fall of 2019—more or less the same timeframe as this current run.

BRRR (Emission Schedule)
Transaction fees are still a negligible share of total block rewards, even with the current price action. Over the past week, fees made up roughly 1.9% of miner rewards, something that we'd definitely want to see grow if we want to have better odds for a $1.00/TH hashprice before the year's close.

Crypto Mining Stock Index
The index was up again this week, rising 6.1% to $6,461.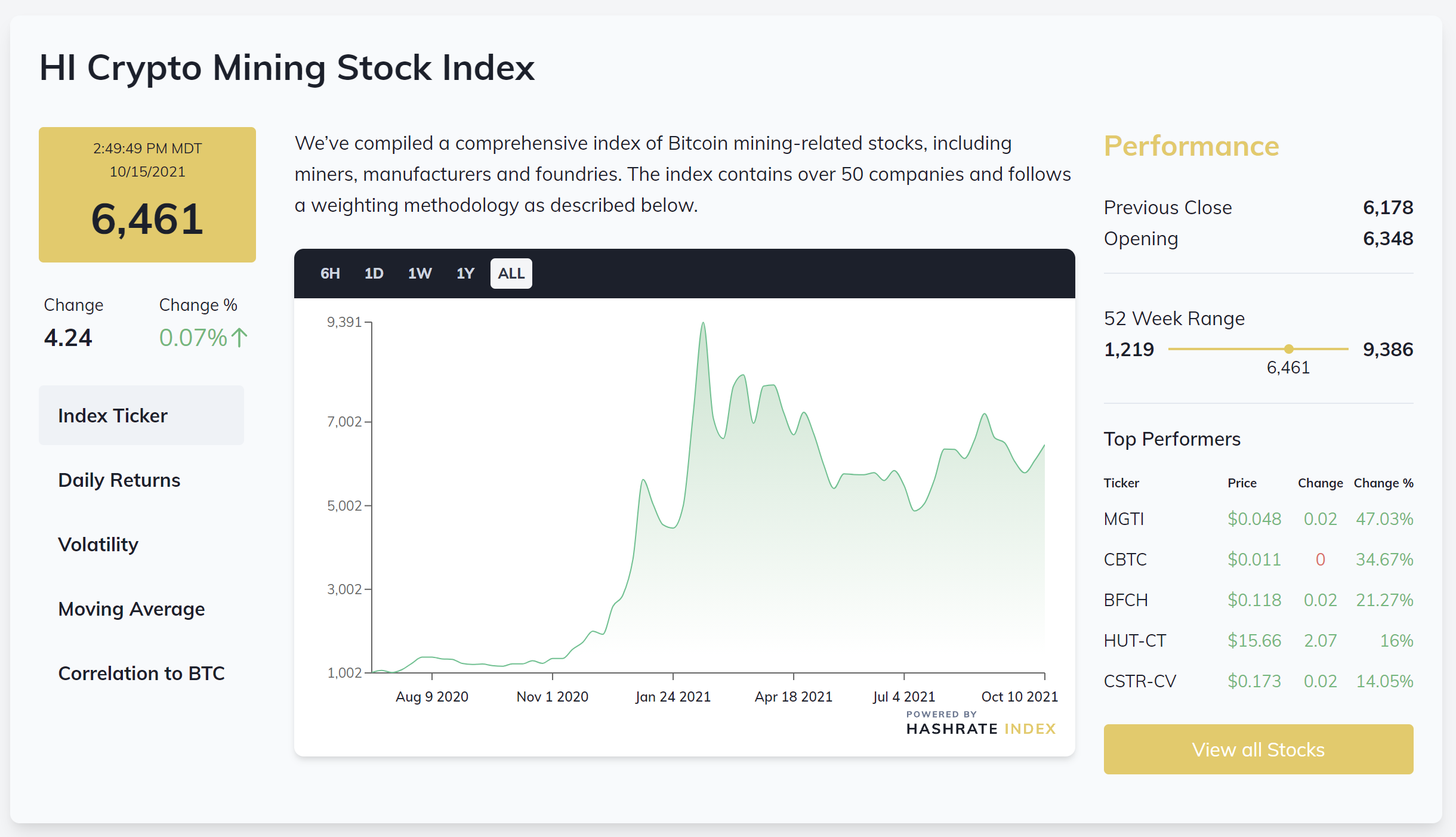 Rig Index
Capex/TH (<35J/TH): $98.86
Estimated Payback Period: 285 days
Rig Price Index
There was a bit of divergence in changes to rig prices last week, with older hardware rising in price while mid-gen prices fell and new rigs remained mostly flat.
The only exceptions here were the newest rigs, which fell by a very negligible 0.2%.
Under 38 J/TH: $98.86 (-0.03%)
38-60 J/TH: $67.82 (-2.7%)
60-100 J/TH: $39.34 (1.7%)
Over 100 J/TH: $19.93 (3.2%)

Profitability of Popular SHA-256 ASIC
With hashprice on fire thanks to Bitcoin's price explosion, the per-day reward potential for popular rigs rose significantly over the week:
Antminer S19: $36.99
Whatsminer M30S++: $43.61
Whatsminer M30S: $34.27
Antminer S17+: $28.42
Whatsminer M20S (70TH): $27.26
Antminer S9: $4.48
News Roundup
MintGreen Inks Deal With Vancouver Energy Company Heat Homes With ASIC Heat
Residents and businesses in North Vancouver will be using recycled heat from Bitcoin miners to stay warm this winter.
Bitcoin miner MintGreen has signed a 12 year contract with the Lonsdale Energy Corporation to provide the power company with "Digital Boilers" which will dispense heat to commercial and residential buildings in the North Vancouver area.
Bitfury Seeks Public Offering at Over $1 Billion Valuation
Bitfury wants to be Europe's largest Bitcoin-related public offering.
The firm is reportedly seeking an IPO in European markets. It was last valued at $1 billion and has backing from industry heavyweights like Galaxy Digital.
BTC.com, Antpool Begin Blocking Pool Access to Chinese Miners
More mining pools are reacting to China's latest crypto crackdown.
Antpool and BTC.com, two of the largest Bitcoin mining pools, both announced this week that they would begin blocking Chinese users in order to comply with the CCP's latest Bitcoin mining ban.
Square Could Be Looking to Establish a Bitcoin Mining Arm
Twitter and Square founder Jack Dorsey teased on Twitter this Friday that his payment company may make a foray into Bitcoin mining. He mentioned that the project, like Square's forthcoming hardware wallet, would be conducted "in the open in collaboration with the community."
-Luxor Tech Team
Hashrate Index Newsletter
Join the newsletter to receive the latest updates in your inbox.
---