⚡️ Acquire or be Acquired
Happy 204-days A.H. everyone.
Has the M&A feeding frenzy begun? Hard to say but with a tight ASIC market, it may make sense for the well-capitalized players to scoop up some existing facilities.

Share with your Friends & Colleagues
---
Sponsored by Boxminer
Jeff Keller, CEO of Boxminer was one of the first miners we met in the space. Since 2018 we have been recommending our mining pool clients to check out his hosting solutions. He currently has 4 containers online and 2 under construction with a mix of proprietary mining and full-service colocation. The cool Ohio climate makes it ideal for machine longevity and the site is currently being upgraded to 50MW.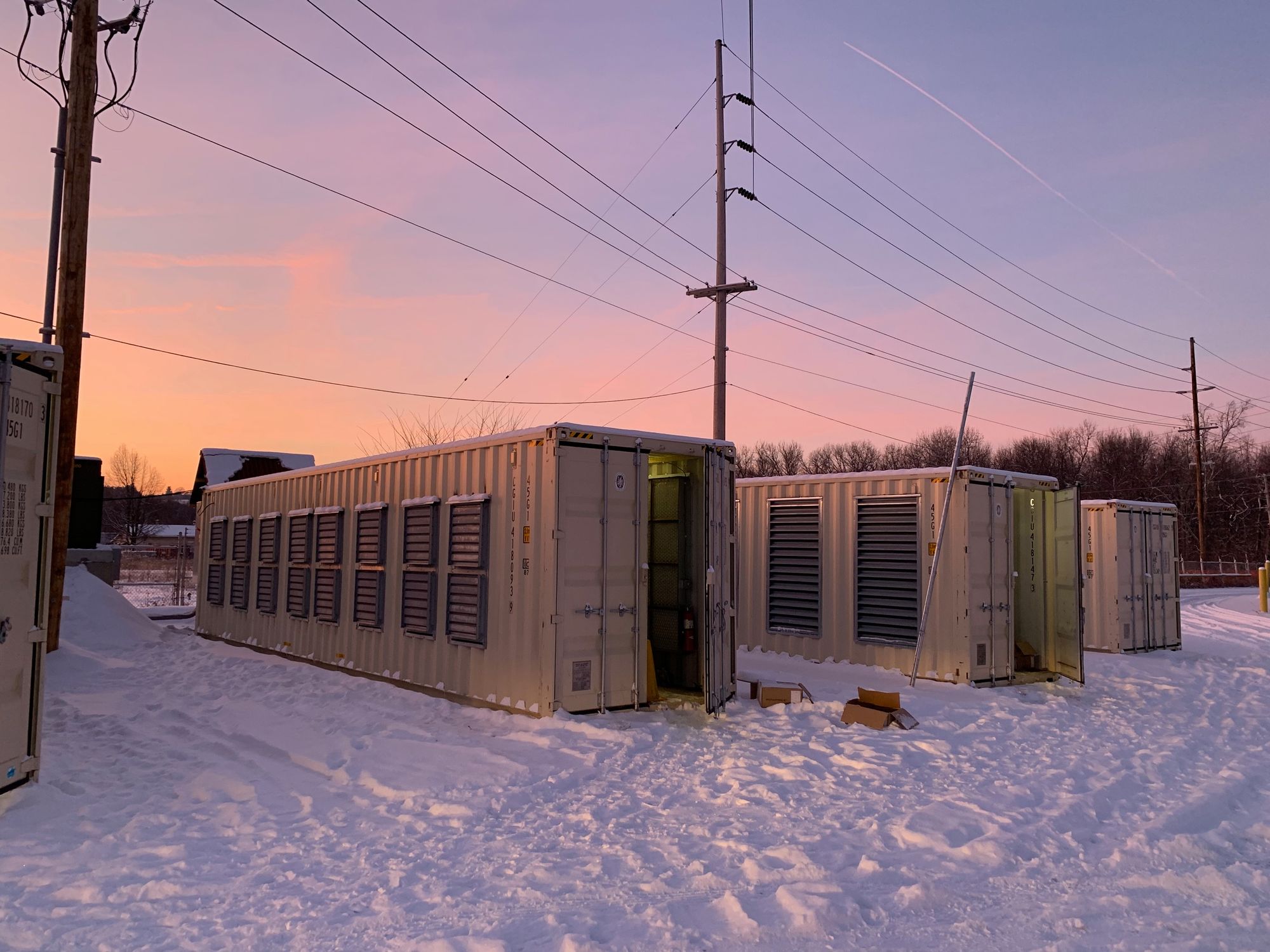 ---
Trading Update
Rig Price Index
New-gen markets remain extremely tight. Manufacturers are now selling orders for July-2021. If you want to get new-gen equipment ahead of then, you will need to pay a premium. Even Feb-2021 shipments are trading at a 30%+ premium right now.
ASIC prices are up over 5% across efficiency buckets over the past two weeks.

Hashprice Index
Mining revenue has again been trading in the 12-15 cents a TH band over the past two weeks and ended the period flat.
Difficulty adjusted upwards by 9% on Sunday, the second increase in a row.  Transaction fees fell from 14.5% of mining revenue in the first half of November to 7.0%. Bitcoin price is up 22% over the past two weeks. On a Bitcoin-denominated basis, revenue is down but the strong price run-up offset difficulty & transaction fees.

Difficulty Futures
FTX's Q1 2021 Difficulty Future is down ~0.1% from the last update to 24.999 T. This represents an expected ~31% increase by mid-February 2021.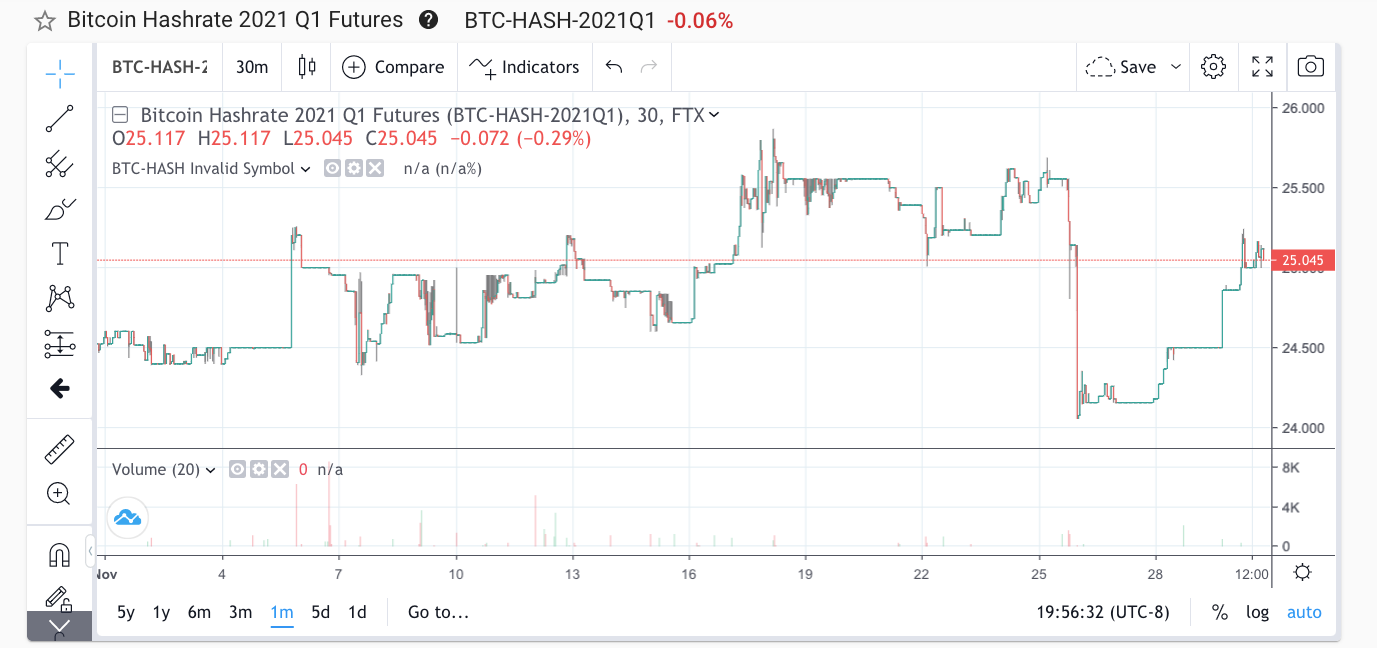 ---
Mining News
Pools Signal Support for Taproot
Taproot expands on Bitcoin's smart contract flexibility while offering more privacy in doing so. Schnorr sig aggregation would be a huge benefit to BTC's scalability.

Most developers, miners, and Bitcoin community members agree that Taproot is a good upgrade for Bitcoin, however, opinions differ on how it should be activated. Poolin started a website for mining pools to signal support for Taproot and their preferred activation method.

We prefer BIP9 to any version of BIP8 because we feel like it's a centralizing power to a group of people who already have a ton of influence over the direction of Bitcoin. Miners are the backbone of Bitcoin consensus and as such BIP9 is the right way to proceed. Miners are also much more actively involved in the community this time so we won't face the same hardships as we did with Segwit.
Industry Consolidation Begins
Hive Blockchain entered into an MOU to buy GPU.one's 50MW facility in New Brunswick. This would be Hive's second major acquisition this year following their purchase of a 30MW facility in Quebec earlier this year. The once ETH-focused miner is quickly scaling up its Bitcoin mining capabilities.

This is the second time GPU.one has been in the news, with Argo announcing that they are looking to acquire their Quebec facility.

Industry consolidation seems like a natural transition for this industry, happening at mainly the mining farm level. These mergers and acquisitions will most likely be on a project basis rather than a corporate level, similar to the real estate industry. Although, Bitcoin is inherently against centralization so there likely won't be many players that are above 10% of the industry (excl. pools).
---
Public Co Earnings Reports
Canaan (NASDAQ: CAN) - Nov 30, 2020. Canaan reported revenue of $24mm a 5% drop in the period, and a net loss of $12.7 million, more than 4x the size of Q2's loss.
Hive (CVE: HIVE) -  Dec 1, 2020. Hive reported revenue of $13mm, an 8% increase from the same quarter last year. Gross mining margin expanded to $9.2 million, from a loss of more than $560,000. Net income per share grew to $0.03 from a loss of $0.04.
Hut8 (TSE: HUT) - Nov 12, 2020. Hut 8 reported revenue of $4mm, down 43% from the previous quarter, but decreased its loss to only C$900,338 from C$5.19mm a year ago.
Marathon (NASDAQ: MARA) - Nov 12, 2020. Marathon reported revenue of $835,184, a 160% increase from the same period last year. They reported a net loss of $1.99 million, or 6 cents a share, compared with the year-ago loss of $754,407, or 12 cents.
Riot (NASDAQ: RIOT) - Nov 9, 2020. Riot reported revenue of $2.4 million, increasing revenue by 42% from the same period in 2019. The loss per share dropped to $0.04 in Q3, a 50% improvement from a loss per share of $0.08 during the same period last year.
---
Mining Educational Content
ASIC Procurement is a key pillar in executing a good mining operation. In this guide, we teamed up with ASIC-broker, Blockware Solutions to do a deep dive in acquiring machines.
---
About Luxor
Luxor is a US-based mining company.
We run a best-price platform for SHA-256 (Bitcoin) and Equihash. We operate mining pools for Dash, Zcash, Horizen, Decred, Sia, and more.
We also run mining data website, Hashrate Index.
Hashrate Index Newsletter
Join the newsletter to receive the latest updates in your inbox.
---